I was struck with inspiration today morning while listening to the B'lore radio channels, as I was travelling from home to office: Inspiration to post my favorite romantic movies – movies which I can watch again and again, movies which have swayed my heart, made me believe in love, and defined some part of my idea of pure love… and so, here are the top ten ones, in random order (I've tried to intersperse the languages though – one English movie, one Hindi, one English again and so on..):
1. Titanic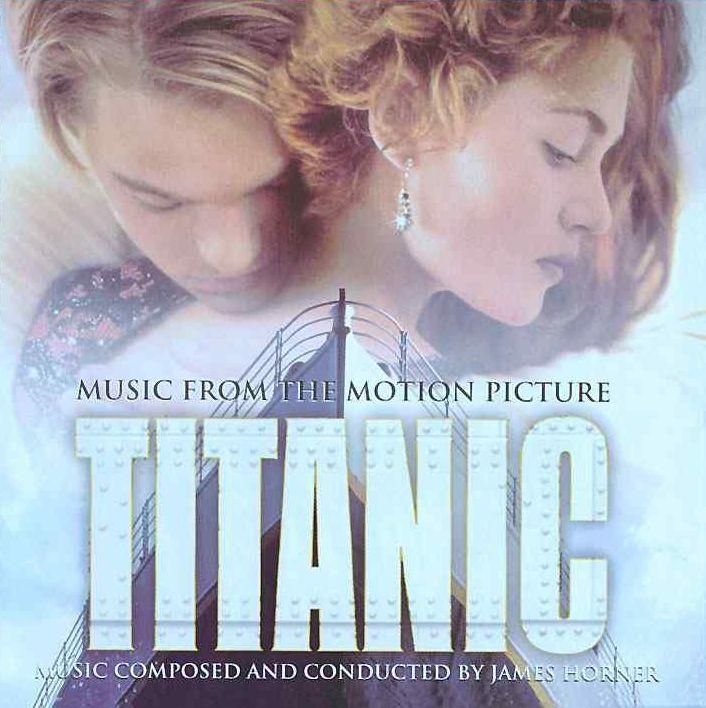 A very safe choice
but also a very personal one…Titanic still takes my breath away, each time I watch it. Beautifully crafted, taut and perfect, the movie leaves no loopholes, and the love between Jack and Rose is almost immortal. Leonardo Di Caprio is fiery, charming yet mature, a man who believes in living every moment to the fullest. Kate Winslet is beautiful, strong, passionate and a woman of substance. Their love seems improbable at first, but after they meet, inevitable. If I were to list favorite scenes, I would almost be rewriting the movie, so for now I mention only these: the look on Jack's face when he sees Rose for the first time, on the upper deck, Jack's performance on the dinner table – and him saying "Almost", when Cal tells him he could almost pass for a gentleman; Rose reading the words "Make it count. Meet me at the Clock", the flush on her face as she tap dances with Jack, and discovers the free-spirited life she'd been yearning for, Rose coming back for Jack when she realizes he's not gotten onto the boats, Jack dying trying to save Rose… The last scene is perfect – the lovers are united under the clock, where time and life stop for their divine love – I still get tears when I watch that one.
2. Dilwale Dulhaniya Le Jayenge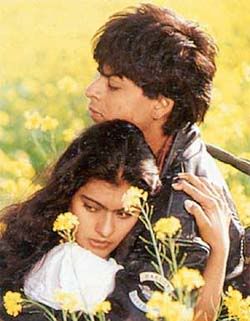 Who could be more corny and irritating than Raj in the first half of DDLJ, yet be able to win the heroine and us over in the second half with his undying love and promises, and who could be more endearing than Simran, who cries, screams, shouts, gets sozzled, and yet has stars in her eyes… DDLJ is the atypical romantic movie, one of the best movies Hindi cinema has seen. 5 yrs and still going strong. My favorite scenes would again fill a whole page, but some notable ones I can think of immediately is: Raj and Simran shouting at each other, then having to say sorry, when the other one says "bade bade deshon mein aisi choti choti batein hothe rethe he"; Going their separate ways after all their escapades, and turning back to see the other one walking away; Raj meeting Simran in the mustard fields of Punjab – where he's come to take away his bride; the scene in the kitchen where Raj tells Simran's mum "bas, samjho ki aap ki hi parchayi honi chaahiye", and the subsequent look on Simran's face; them meeting chori-chori chupke-chupke on the terrace, and Simran's ploys to get Raj to give her food and water on karva chaut, and to avoid Kuljeet put a ring on her ring finger… I think I'm already running out of space :).
3. Dil To Pagal Hai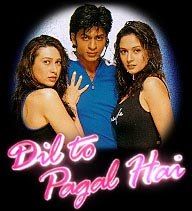 I haven't seen Silsila and other Yash Chopra movies much, so for me Dil To Pagal Hai is his best. Being into dance myself, Dil To Pagal Hai was a movie that resonated with my being. I watched this when I was in college, and was in DTPH fever for months altogether. I loved it – from the promos, to the songs, to the dialogues to the concept of "someone, somewhere is made for you". That line has stuck with me the longest, and I have only Yash Chopra to blame for me not finding a mate yet – cos I believed in it :). Shahrukh as Rahul, Madhuri as Pooja and Karishma as Nisha. They had it all – the moves, the grooves. The whole movie traces the making of a play, and Shahrukh and Madhuri fall in love as they enact 'Maya'… and the climax finds them rewinding through all the songs, on stage. Memorable scenes: The tune Shahrukh hums when he's in the changing room at a store, when he's going back home after the Valentine's day party, when he's delivered a cake to Madhuri's home and is leaving, when he's dropped her home and as he's going back, he hums it and then she realized it was him all that while, the Kathak piece Madhuri does with Shahrukh on the drums, the Arere song (with two pairs of Madhuri-Shahrukh: one in actual life, and the other in love, watching them live their lives, but realizing the strong undercurrent of love between them), the scene after the wedding when Madhuri loses her choodiyan, the dance of envy and Karishma's almost-green eyes… again running into pages
4. Pretty Woman, The Runaway Bride
I had no choice but to list these two movies together – and that's only because of the star pair. Richard Gere and Julia Roberts created magic on the silverscreen – fantastic chemistry in the most improbable situations. I was all eyes for Gere and Julia Roberts – never knew why there was so much hype about her smile till I saw these movies. She can only be described as sparkly. Gere is suave and dashing. Memorable Scenes from both the movies: Gere running after his runaway bride, and she in her bridal wear hopping on a (Fed-Ex?) van; Julia coming back to Gere afterwards and the emotional moments in his apartment, with her proposing to him on one knee; In Pretty Woman, Julia going to an upmarket store and them being rude to her because of her sleazy outfit, and then Gere taking her to another one where she's treated like a queen; Gere coming after her at the end, and climbing up (stairs?) to propose to her.
5. Maine Pyar Kiya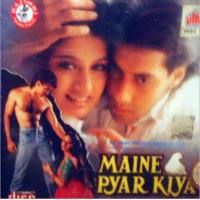 Listing Maine Pyar Kiya after Pretty Woman et al, may seem blasphemous to many, but not for me. I first heard of the movie Maine Pyar Kiya during my summer hols after completing 4th standard in school and going to the 5th. I remember my uncle telling me that it was a ridiculous movie about love. That year, we had a new school bus driver – I remember him very well – devout muslim with a beard, wearing a white prayer cap – although he appeared fierce as a person, in reality he was pretty jolly, always smiling and having a booming laugh. Every day when we went home he would play the Maine Pyar Kiya cassette in the school bus, and I would listen to the song "Mere Rang Mein" – not understanding a single word, but wondering what sort of music it was, because I'd never heard something like that before.
Initially I got tired of listening to the same song over and over again ( I remember each time the song got over he would rewind and play it again ) but then it grew on me. To this day when I hear the song, its like déjà vu; I'm transported to a totally different place. I saw the movie much after I'd heard its songs, and that's when Cupid struck an arrow in my heart. No, I didn't have any real life crushes, but I was in love with the movie – the innocence of Suman, and the mischief of Prem, and their dosti. Feelings of romance and love are so strong in adolescence (as my friend The Visitor puts it, probably an effect of hormones ;)), but however clichéd some parts of Maine Pyar Kiya were, it still ranks as one of the most romantic movies I've seen. I got to see it on TV a couple of weeks ago, and I realized I still stick to that.
6. You've Got Mail, Sleepless in Seattle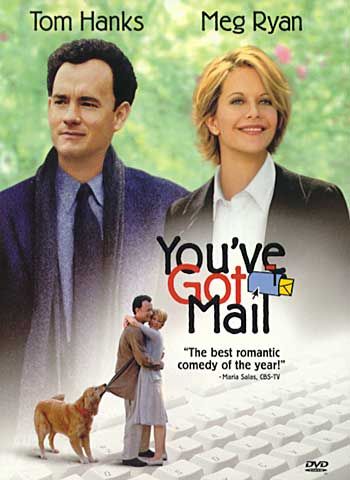 Double listing again
courtesy Tom Hanks and Meg Ryan. I looovvvee Tom Hanks and I loved his pairing with Meg Ryan. What can I say about both the movies? Just very simply – all you mushy movie freaks out there – watch it. This one's for you. For months after watching You've Got Mail, I wished fervently that I would also fall in love online. I logged onto yahoo chat with my incessant prayers, and the first few episodes of chatting jolted me to ground level, straight from the clouds – suffice to say that there were some unpleasant encounters, and although I did make some friends, I realized I couldl never fall in love without seeing and knowing any person. I guess I realized that movies were far removed from reality. Don't want to list any particular moments from either of the movies btw, because I was captivated more by the lead pair, and how believable they made the stories seem.
7. Mughal-E-Azam
Anarkali and Salim. A tribute to love, dated back to almost a half-century ago. Re-made in color recently, and since has been playing out on Sony MAX almost every weekend. I never watched Mughal-E-Azam in black n white, so when it released in color, I made sure that I went to watch the larger than life, opulent movie, in PVR cinema's plush cinema hall, in Bangalore. That was my first movie in PVR :). I've also watched the movie since then many times on Sony MAX, just because I could never take in the richness of the movie at one/two goes. Sony MAX plays out interesting tidbits during ad breaks – here's one tidbit: When Jodhabai waits for her son to return from the army, years after he's left home, there is one shot where a lot of pearls are thrown on the ground – Supposedly that shot was first done with fake pearls, but the maker of the film, K Asif, didn't like the fact that the fake pearls didn't bounce after hitting the ground, the way real pearls did. So he actually suspended shooting of the movie for a whole year, till they could accumulate enough real pearls to do that one shot! Getting back to the romance in the movie – I've heard a lot of people say that the scene where Salim caresses Anarkali's face with a feather is the most passionate scene ever devised. I guess that says a lot for the jhatkas, matkas and stripping we see in movies of today. I don't think any heroine of today can be what Madhubala was then – she was ethereal, so complete a performer. Strong and defiant, yet passionate and devoted, she was a revelation to me when I saw the movie. Her soft, romantic song "More Panghat Pe Nand Lal" song is so different from the classic "Pyaar Kiya tho Darna Kya". In both songs, the hero sits on a throne away from the heroine; there is no physical contact, and no in-your-face moves at all – yet there was sheer electricity in the scenes.
8. The Wedding Planner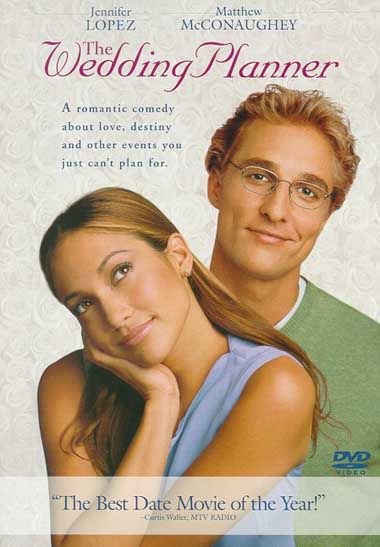 This last one year I must have watched this movie atleast 50 times. Each time its on Zee Studio, HBO or Star Movies, I'll be there watching it. So much so that I can recite all the dialogues with ease, maybe even show the facial expressions :). JLo is the wedding planner par excellence who lives a lonely life with no wedding bells for her in sight, and Matthew McConaughey is the doctor (paediatrician) who knows how to ballroom dance, and is engaged to a rich, adventurous and exciting but skinny woman. Their paths cross, and Mary falls in love with Steve, only to find out that she's supposed to be planning his wedding. Amazing chemistry, scenes straight out of romantic fantasies, and finally a happy ending. My fav scene is the dance where JLo is wearing an amazing red dress, and Steve and Mary dance with aplomb (I've often tried practicing those moves :)) while yelling at each other the whole time. And there's a scene in Mary's house, when she's drunk – she's lying on the sofa and mumbling to Steve, who is roasting marshmallows on a lit candle, and he removes this strand of hair that's fallen on her face… If there are people out there who're smirking right now: yes, yes, I confess. I'm an incorrigible romantic. A hopeless case.
9. Bombay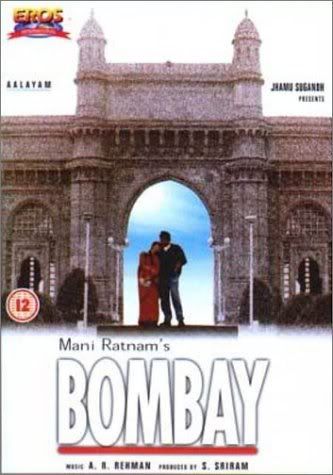 I don't know whether it was Manisha's innocent and endearing smile, or Arvind Swamy's dapper looks, A R Rahman's eternal music or Mani Ratnam's impeccable direction that did it for me, but Bombay has always stayed on my mind – as fresh as when I saw it first. The choreography of Kehna Hi Kya (not to mention the song) is just perfect – Manisha – she's dressed in this white/cream outfit, looking divine - tries to evade Arvind during the whole song (which she is singing in a marriage) but he keeps following her; at times, her step ceases as she sees him and our heart beats cease too. Tu Hi Re (Uyire in Tamil) is a heart-rending song about love, pictured with the sea as a backdrop. Hariharan and Kavita put their heart and soul into the song, and I get goose bumps even when I listen to it today. Finally they fall in love and she, a Muslim girl from a village in Tamil Nadu, runs away from home, to join her Hindu beloved in Bombay. And together, they set up a beautiful life after marriage - have twin children with names like Kabir Narayan and Kamal Bashir, but then their dream-like story is shattered in communal riots in Mumbai, and their family is almost torn apart. There is a piece that Rahman has composed as the Bombay theme – flute and violin. It is one of the most beautiful instrumental pieces I have ever heard in my life; the kind I would expect to hear if I ever go to heaven :).
10. Nandanam
Nandanam is the only Malayalam movie I count here, because most Malayalam movies with a romantic track, either have a strong dose of comic timing, or social relevance, or family values. So even though there are many many movies where the romance was special to me, I'm not listing any of them here. Nandanam is an exception, because Nandanam was all about love. Again, Nandanam is a movie for which I can write almost all the dialogues because I've watched it so many times. What made Nandanam refreshing was Navya Nair's portrayal of Balamani – I loved that character. Her chemistry with Prithviraj (Manu in the movie) was also amazing – they were a fresh pair, good looking, and simple – and so was their love. But what made Nandanam so special was not only their love, but the involvement of God in it. I don't know if I am spoiling anyone's suspense by writing this here (but what the heck, its been years since the movie's been released) – Balamani is an ardent devotee of the Lord Krishna, but she's only a servant in Prithvi's household. However, her love for the God is so pure that the Lord comes to her in human form, and brings the twists in the story that finally lead to her marriage with Prithviraj. The movie ended with the note that if you believe strongly in any higher-power, regardless of what name you may choose to call it by, that power will make your ardent wishes come true.
There are many other movies that were straining to come into the list, but I opted them out only because I didn't think the romance was the only significant part of the movie. Also, there are most probably many other movies which I haven't watched but qualify for best romantic movies - but then I said this is "My list" :). So that's my disclaimer for sceptics